"

Finding beauty in the relationship between shapes and the whitespace"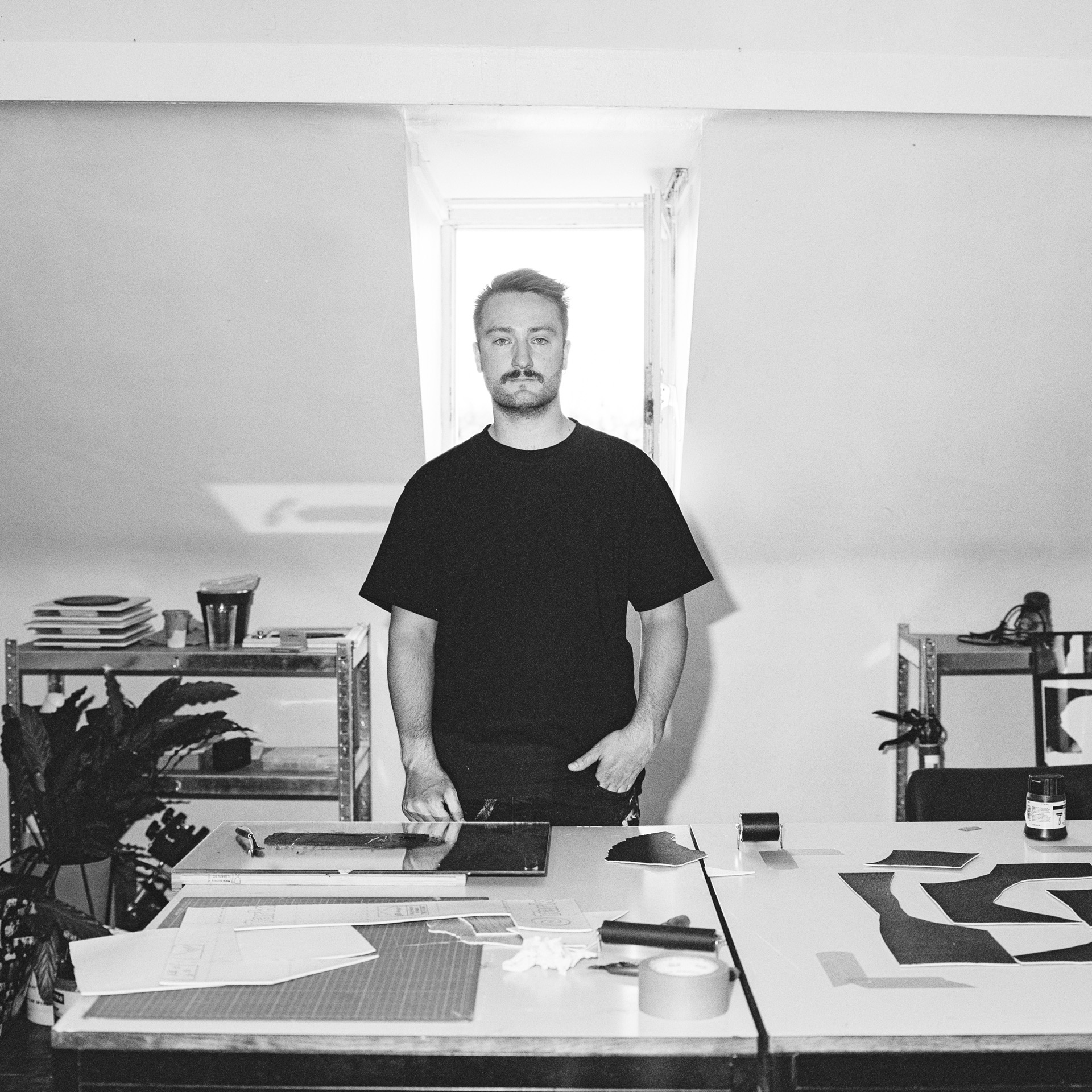 +32 (0) 495 70 68 17
info@maartendenaeyer.com
Leuven, Belgium
Cofounder of
WAJO artspace (BE)
Represented by
Galerie Dessers (BE)
Kunstkennerey (DE)
Resident at

Cas-Co
Works for sale
Nationa(a)l store

Kunst Aan Zet
NL

De abstract grafische werken van Maarten De Naeyer (geboren 1992 in Leuven, woont en werkt in Leuven) zijn ontstaan uit een constant experimenteren met vormen en texturen. Na het behalen van zijn master Grafisch Ontwerp in 2015 ontwikkelde Maarten zijn eigen unieke werkwijze door te experimenteren in zijn atelier.

Uitgepuurde vormspanning door geometrische en organische vormen die op elkaar inwerken in een omgeving van uiteenlopende texturen zijn de rode draad doorheen het werk. Een ander zeer kenmerkend gegeven is het haast uitsluitend gebruik van zwart én wit, dit om de puurheid van vormen te behouden en de negatieve witruimte in dialoog te laten gaan met de compositie. Door het gebruik van suggestieve titels wordt de kijker aan het denken gezet.

Geïnspireerd door lino-snedes snijdt hij abstracte composities uit textuurrijk materiaal om deze vervolgens met behulp van drukkersinkt over te brengen op een uitgekozen materiaal. Door het handmatig aandrukken van deze stencils ontstaan er interessante en uiterst toevallige texturen. Toeval en experiment spelen een grote rol in het creëeren van de werken wat het proces interessant maakt. Deze techniek ontwikkelde hij uit de nood om te ontsnappen aan de digitale wereld waar hij zich als grafisch ontwerper dagdagelijks in bevindt.
EN

The abstract graphic works of Maarten De Naeyer (born 1992 in Leuven, lives and works in Leuven) are the result of a constant experimentation with shapes and textures. After obtaining his masters degree in Graphic Design in 2015, Maarten developed his own unique way of working by experimenting in his studio.

Purified form tension through geometric and organic shapes that interact in an environment of varying textures are the common thread throughout the work. Another very characteristic fact is the almost exclusive use of black and white, this in turn preserving the purity of shapes and allowing the negative white space to enter into a dialogue with the composition. The viewer is made to think through the use of suggestive titles.

Inspired by linocuts, he cuts abstract compositions from texture-rich material and then transfers them to different materials using printer's ink. Interesting and accidental textures are created by manually pressing these stencils. Coincidence and experiment play a major role in creating these works, which makes the process always interesting. He developed this technique out of the need to escape the digital world in which he finds himself daily as a graphic designer.